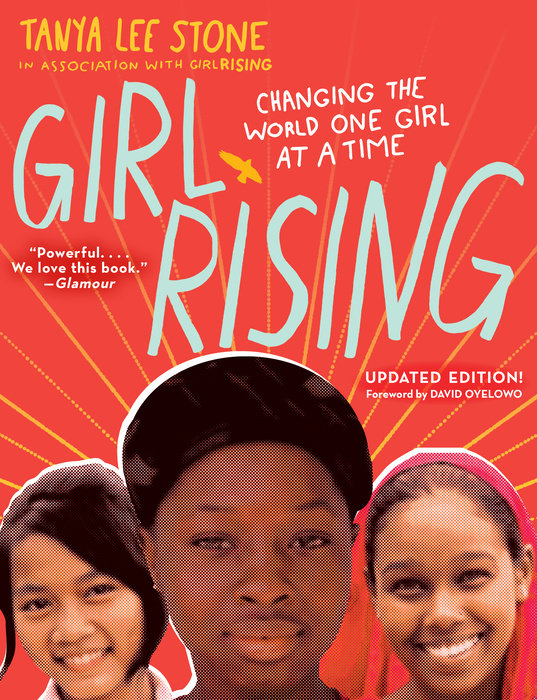 "Powerful. . . . We love this book." —GLAMOUR
"With delicacy and great empathy, Stone . . . prod[s] young readers to think of what better sort of girlhood is possible." —THE WASHINGTON POST
A gorgeous, full-color oversized book about educating girls across the world, inspired by the documentary that Entertainment Weekly says "every mother, sister, and daughter should see, as well as the men who love and support them."
Worldwide, more than 130 million girls are not in school.
Why is that, and what can you do about it?
Girl Rising started as a film, profiling nine unforgettable girls coming of age in the developing world and confronting the barriers to their education. Powered by these stories of resilience and determination, the film exploded into a global campaign for girls' education.
This book—which can stand alone—is an expansion of that film. Author Tanya Lee Stone deftly integrates raw interview footage from the filmmakers with her own research to illuminate the facts and stories behind the girls in the film and more than twenty-five others around the world—girls who are conquering obstacles, becoming empowered, creating their own possibilities.
This updated edition features a foreword by David Oyelowo, the noted actor, producer, and activist for girls' education. With stunning full-color photos from the global film shoots, recent statistics and information about the girls in the film, infographics, and a compelling narrative, Girl Rising is a call to action. It will inspire you to join an exhilarating and growing movement to change the world.
This is the right book for the present moment and perfect for anyone who believes that one girl with courage is a revolution.

A KIRKUS REVIEWS BEST TEEN BOOK OF THE YEAR
A BANK STREET COLLEGE OF EDUCATION BEST CHILDREN'S BOOK OF THE YEAR
AN ALA AMELIA BLOOMER TOP TEN SELECTION
A JUNIOR LIBRARY GUILD SELECTION
Additional Praise for the Film: 
"Delivers . . . tangible hope that the world can be healed in a better future." —MERYL STREEP
"Girl Rising stands as a testament to the power of information." —LOS ANGELES TIMES