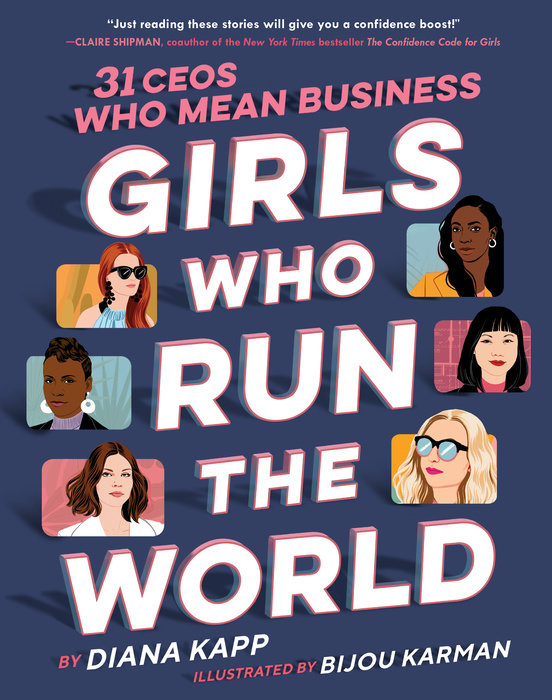 Girls Who Run the World: 31 CEOs Who Mean Business
The perfect graduation gift for future entrepreneurs! Part biography, part business how-to, and fully empowering, this book shows that you're never too young to dream BIG! With colorful portraits, fun interviews and DIY tips, Girls Who Run the World features the success stories of 31 leading ladies today of companies like Rent the Runway, PopSugar, and Soul Cycle.
Girls run biotech companies.
Girls run online fashion sites.
Girls run environmental enterprises.
They are creative. They are inventive. They mean business.
Girls run the world.
This collection gives girls of all ages the tools they need to follow their passions, turn ideas into reality and break barriers in the business world.
INCLUDES:
Jenn Hyman, Rent the Runway
Sara Blakely, Spanx
Emma Mcilroy, Wildfang
Katrina Lake, Stitch Fix
Natasha Case, Coolhaus
Diane Campbell, The Candy Store
Kara Goldin, Hint Water
Anne Wojcicki, 23andMe
Rachel Haurwitz, Caribou Bioscience
Nina Tandon, EpiBone
Jessica Matthews, Uncharted Power
Jane Chen, Embrace
Emily Núñez Cavness, Sword & Plough
Hannah Lavon, Pals
Leslie Blodgett, Bare Escentuals/Bare Minerals
Katia Beauchamp, Birchbox
Emily Weiss, Glossier
Christina Stembel, Farmgirl Flowers
Mariam Naficy, Minted
Maci Peterson, On Second Thought
Stephanie Lampkin, Blendoor
Sarah Leary, Nextdoor
Amber Venz, RewardStyle
Lisa Sugar, Pop Sugar
Beatriz Acevedo, MiTu network
Julie Rice and Elizabeth Cutler, Soul Cycle
Suzy Batiz, Poo-Pourri
Tina Sharkey, Brandless
Jesse Genet, Lumi
Tracy Young, Plan Grid