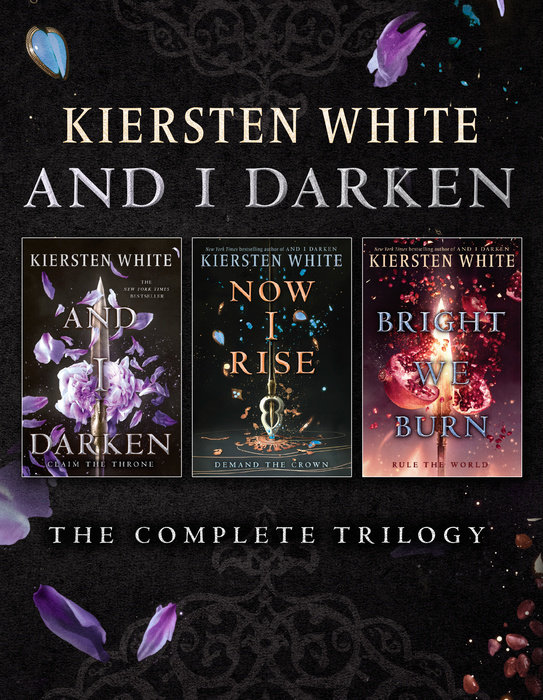 And I Darken: The Complete Trilogy
Claim the throne. Demand the crown. Rule the world. Discover Kiersten White's New York Times bestselling AND I DARKEN trilogy in this complete collection of all three novels: And I Darken, Now I Rise, and Bright We Burn. It's the epic saga that reads like HBO's Game of Thrones . . . if it were set in the Ottoman Empire.
This collection contains the complete text of the three novels in the dark and sweeping And I Darken trilogy:
AND I DARKEN: No one expects a princess to be brutal, and Lada Dragwlya likes it that way. Ever since she and her brother, Radu, were wrenched from their homeland of Wallachia, Lada has known that being ruthless is the key to survival. Then they meet Mehmed, a true friend but heir to the very empire that Lada has sworn to fight against. Together, Lada, Radu, and Mehmed form a toxic triangle that strains the bonds of love and loyalty to the breaking point.
NOW I RISE: Lada Dracul has no allies. No crown. All she has is what she's always had: herself. After failing to secure the Wallachian throne, Lada is out to punish anyone who dares cross her. But Lada needs the support of her diplomatic younger brother, Radu. As nations fall around them, the Dracul siblings must decide: what will they sacrifice to fulfill their destinies?
BRIGHT WE BURN: Lada's rule of absolute justice has created a Wallachia free of crime. But Lada won't rest until everyone knows that her country's borders are inviolable. Only by destroying everything that came before--including her relationships--can Lada truly build the country she wants.
Praise for Bright We Burn:
"Rich . . . A worthy end to a powerful saga." --Booklist
Praise for Now I Rise:
"A+, 5 knives."--Amie Kaufman, New York Times bestselling coauthor of the STARBOUND and ILLUMINAE FILES trilogies
"Fierce, epic, and crazy fun."--Melissa Albert, New York Times bestselling author of The Hazel Wood
Praise for And I Darken:
"Absolutely riveting."--Alexandra Bracken, #1 New York Times bestselling author of The Darkest Minds
"Required reading for every feminist fantasy fan."--BuzzFeed