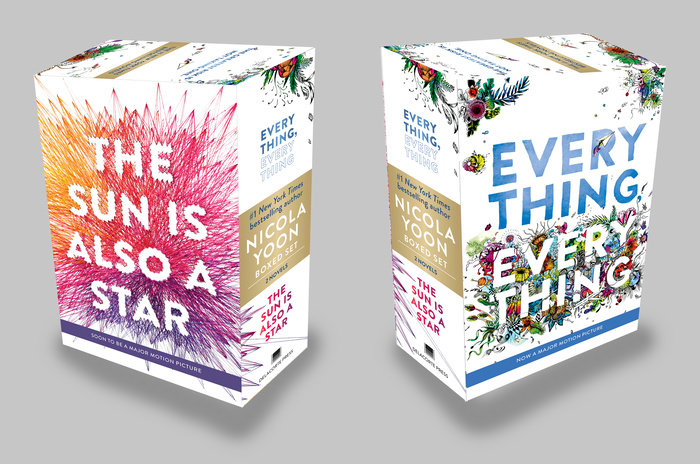 This stunning boxed set makes a perfect gift and includes Nicola Yoon's #1 New York Times bestsellers, EVERYTHING, EVERYTHING and THE SUN IS ALSO A STAR, both of which are now major motion pictures!
Maddy and Olly. Natasha and Daniel. Two captivating love stories from Nicola Yoon are paired for the first time in this collectible boxed set, which includes hardcover editions of Everything, Everything, a #1 New York Times bestseller, and The Sun Is Also a Star, a #1 New York Times bestseller and National Book Award Finalist, in a custom-designed case.
In Everything, Everything, Maddy is a girl who's literally allergic to the outside world, and Olly is the boy who moves in next door . . . and becomes the greatest risk she's ever taken. In The Sun Is Also a Star, Natasha and Daniel are brought together just when it seems like the universe is sending them in opposite directions. Falling in love doesn't seem possible, but fate has something extraordinary in store.
Praise for Everything, Everything:
"Gorgeous and lyrical." --The New York Times Book Review
"[A] fresh, moving debut."--Entertainment Weekly, A-
"YA book lovers, your newest obsession is here."--MTV.com
Praise for The Sun Is Also a Star:
"Beautifully crafted."--People Magazine
"Fans of Yoon's first novel, Everything Everything, will find much to love--if not, more--in what is easily an even stronger follow up." --Entertainment Weekly
"Transcends the limits of YA as a human story about falling in love and seeking out our futures." --POPSUGAR.com