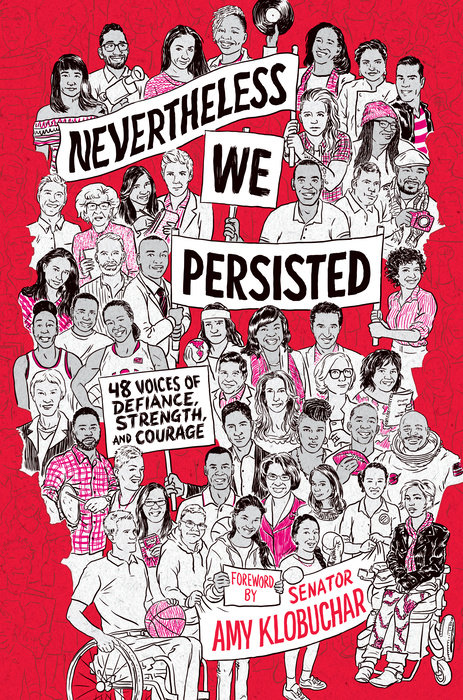 Nevertheless, We Persisted
A powerful collection of essays from actors, activists, athletes, politicians, musicians, writers, and teens, including Senator Amy Klobuchar, actress Alia Shawkat, actor Maulik Pancholy, poet Azure Antoinette, teen activist Gavin Grimm, and many, many others, each writing about a time in their youth when they were held back because of their race, gender, or sexual identity—but persisted.
"Aren't you a terrorist?" "There are no roles for people who look like you." "That's a sin." "No girls allowed." They've heard it all. Actress Alia Shawkat reflects on all the parts she was told she was too "ethnic" to play. Former NFL player Wade Davis recalls his bullying of gay classmates in an attempt to hide his own sexuality. Teen Gavin Grimm shares the story that led to one of the infamous "bathroom bills," and how he's fighting it. Holocaust survivor Fanny Starr tells of her harrowing time in Aushwitz, where she watched her family disappear, one by one.
What made them rise up through the hate? What made them overcome the obstacles of their childhood to achieve extraordinary success? How did they break out of society's limited view of who they are and find their way to the beautiful and hard-won lives they live today? With a foreword by Minnesota senator and up-and-coming Democratic party leader Amy Klobuchar, these essays share deeply personal stories of resilience, faith, love, and, yes, persistence.
An International Latino Book Award Winner
A National Council for Social Studies Selection
"Each tale is a soulful testament to the endurance of the human spirit and reminds readers that they are not alone in their search for self. . . . An unflinchingly honest book that should be required reading for every young person in America." —Kirkus Reviews, starred review
"An invaluable collection of snapshots of American society." —VOYA, starred review
"[A] gem of a book. . . . There's a lot to study here and talk about on the way to becoming kinder, more empathetic, and most important, compassionate." —Booklist
"Readers encountering injustice in their own lives may be compelled to take heart—and even action." —Publishers Weekly
"A powerful collection of voices." —SLJ
"The sheer variation in writing styles, subject-matters, and structure to these narratives provides readers with inspiration in assorted forms and a complex interpretation of what it means to persist." —The Bulletin