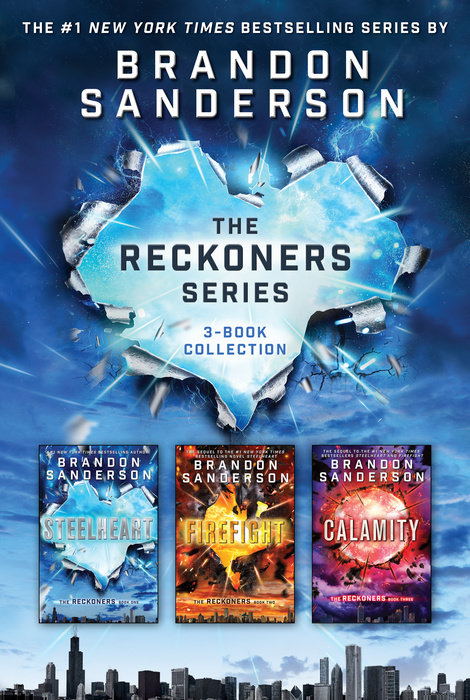 The #1 New York Times Bestselling Series
Perfect gift for fans of the Maze Runner series, this includes all three books in Brandon Sanderson's Reckoners series—Steelheart, Firefight, and Calamity.

   How far would you go for revenge if someone killed your father? If someone destroyed your city? If everything you ever loved was taken from you? David Charleston will go to any lengths to stop the Epics. But to exact revenge in this new world, David will need the Reckoners—a shadowy group of rebels bent on maintaining justice. And it turns out that the Reckoners might just need David, too.
Praise for the Reckoners Series:
"Another win for Sanderson . . . he's simply a brilliant writer. Period." —Patrick Rothfuss, author of the New York Times and USA Today bestseller The Name of the Wind
 
★ "Snappy dialogue, bizarre plot twists, high-intensity action, and a touch of mystery and romance . . . leaves [readers] panting for the sequel." —Booklist, Starred
 
"Action-packed."—EW.com
 
"Compelling. . . . Sanderson uses plot twists that he teases enough for readers to pick up on to distract from the more dramatic reveals he has in store." —The A.V. Club
"An absolute page-turner.""—Publishers Weekly
"A straight-up Marvel Comics-style action drama."—Kirkus Reviews