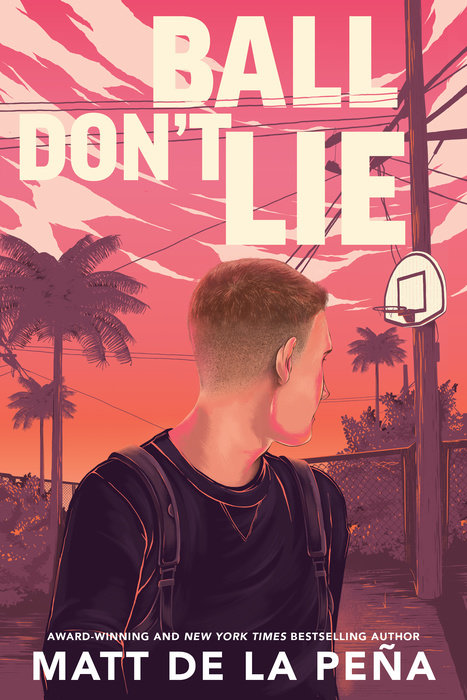 Newbery Award-winning and New York Times bestselling author Matt de la Peña's Ball Don't Lie "is a must-read." [The Bulletin]
Sticky is a beat-around-the-head foster kid with nowhere to call home but the street, and an outer shell so tough that no one will take him in. He started out life so far behind the pack that the finish line seems nearly unreachable. He's a white boy living and playing in a world where he doesn't seem to belong.
But Sticky can ball. And basketball might just be his ticket out . . . if he can only realize that he doesn't have to be the person everyone else expects him to be.
Matt de la Peña's breakout urban masterpiece, Ball Don't Lie takes place where the street and the court meet and where a boy can be anything if he puts his mind to it.
★ "[An] inspiring story. Sticky is a true original, and de la Peña has skillfully brought him to life." --School Library Journal, Starred
"Riveting.... Teens will be strongly affected by the unforgettable...basketball action; and the questions about race, love, self-worth, and what it means to build a life without advantages." --Booklist
"Stunningly realistic." --VOYA
"Gritty and mesmerizing." --Kirkus Reviews

"I have never before seen blacktop ball depicted so well. In this novel, you will find its flash, its power, and its elegance without chains. This is powerful stuff." --Antawn Jamison, forward for the Los Angeles Clippers
"Truly authentic in its examination of both the game I love and the invariable missteps toward manhood. You cannot fail to be moved by the eloquence and truth of this story." --Rick Fox, former forward for the Los Angeles Lakers
An ALA Best Book for Young Adults
An ALA Quick Pick for Reluctant Readers