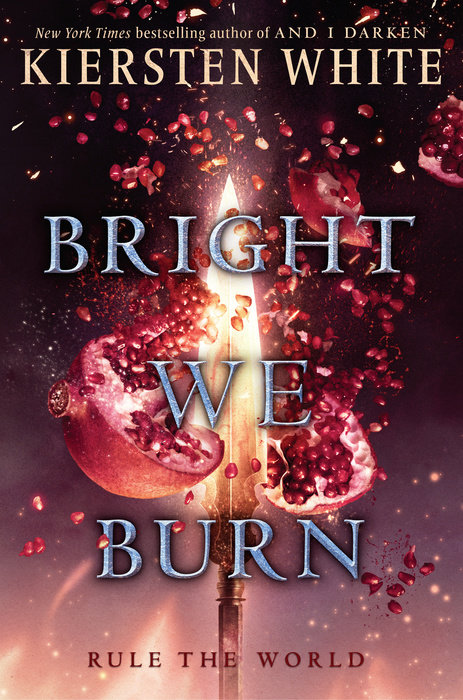 The tumultuous, edge-of-your-seat conclusion to the New York Times bestselling And I Darken series. Who will live? Who will die? And who will rule triumphant?
SOME LOVES HEAL
Haunted over the unknown fates of Nazira and Cyprian, Radu is called back to the new capital. Mehmed is building an empire, becoming the sultan his people need. But Mehmed has a secret: as emperor, he is more powerful than ever . . . and desperately lonely. Does this mean Radu can finally have more with Mehmed . . . and does he even want it?
SOME LOVES DESTROY
Lada's rule of absolute justice has created a Wallachia free of crime. But Lada won't rest until everyone knows that her country's borders are inviolable. Determined to send a message of defiance, she has the bodies of Mehmed's peace envoy delivered to him, leaving Radu and Mehmed with no choice. They must go to war against the girl prince, who has truly become the dragon. If Lada is allowed to continue, only death will prosper.
SOME LOVES NEVER END
Only by destroying everything that came before--including her relationships--can Lada truly build the country she wants. Radu fears that they are underestimating his sister's indomitable will. But Mehmed loves Lada. He knows that he understands her. She must lose to him so he can keep her safe. It is the only way . . . isn't it?
Claim the throne. Demand the crown. Rule the world. And don't miss Kiersten White's new novel, The Dark Descent of Elizabeth Frankenstein, on sale now!
"Rich. . . . A worthy end to a powerful saga." --Booklist
"An intense, engrossing read that never loses sight of its passionate characters' humanity, especially when they're at their worst." --Kirkus Reviews
Praise for And I Darken:
"Absolutely riveting." --Alexandra Bracken, #1 New York Times bestselling author of The Darkest Minds
"Required reading for every feminist fantasy fan." --BuzzFeed
"Evocative. . . . This book takes no prisoners." --NPR
Praise for Now I Rise:
"A+, 5 knives." --Amie Kaufman, New York Times bestselling coauthor of the Starbound and Illuminae Files trilogies
"Fierce, epic, and crazy-fun." --Melissa Albert, New York Times bestselling author of The Hazel Wood