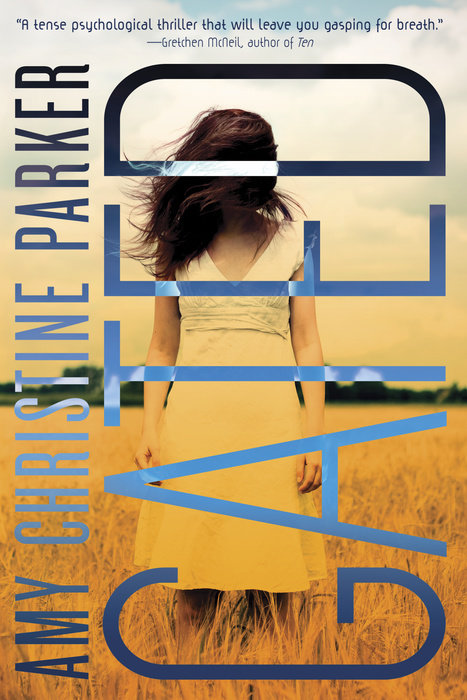 A fast-paced, nerve-fraying contemporary thriller that questions loyalties and twists truths.
 
Appearances can be deceiving.
 
Lyla Hamilton is a loyal member of the Community. Her family was happy to be chosen by Pioneer to join such an lovely gated neighborhood. Here, life seems perfect.
 
But after meeting Cody, an outsider boy, Lyla starts questioning Pioneer, her friends, her family--everything. And if there's one thing not allowed in the Community, it's doubt. As Pioneer cleverly manipulates his flock toward disaster, the real question is: Will Lyla follow her heart or follow Pioneer over the edge?
From the outside looking in, it's hard to understand why anyone would join a cult. But Gated tells the story from the inside looking out, and from behind the gates things are not quite so simple. Amy Christine Parker's beautiful writing creates a chilling, utterly unique YA story. Perfect for fans of creepy thrillers and contemporary fiction alike.
"A tense psychological thriller that will leave you gasping for breath as you race to the very last page." --Gretchen McNeil, author of Ten

HelloGiggles.com, August 3, 2013:
"When I found out that there was a YA book about cults, of course I had to read it. As it turns out, Amy Christine Parker's Gated is an awesome, creepy book that reminds me of my favorite cult films while still being surprising."
Starred Review, Kirkus Reviews, June 15, 2013:
"Parker doesn't pull punches, indicating a level of brutality that will appropriately disturb even as it successfully conveys Lyla's complete entrapment in the Community. Compelling and not that distant from real-world cults that have ended in tragedy."
Publishers Weekly, June 10, 2013:
"Parker skillfully explores the mindset and inner workings of an apocalyptic cult, steadily building toward the inevitable moment of truth...As for the apocalypse itself, Parker keeps things suitably ambiguous, resulting in a complex, intriguing tale rooted in real-world events."
School Library Journal, October 2013:
"This well-plotted tale will allow readers a glimpse into the possible world of a doomsday cult...The language is accessible, making it a good choice for reluctant readers. After the last page is turned, the question will linger: 'Could I ever be deceived like this?'"
Examiner.com
"A well-rounded and thorough look into cults while still remaining entertaining throughout. I look forward to reading more of Parker's works in the future."