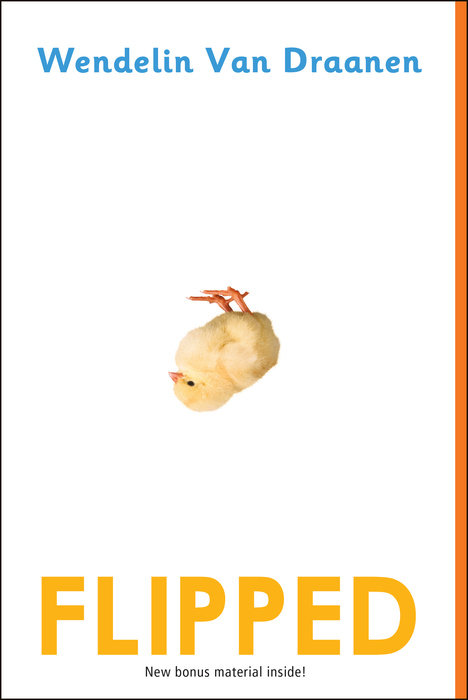 A classic he-said-she-said romantic comedy!  This updated anniversary edition offers story-behind-the-story revelations from author Wendelin Van Draanen.
 
The first time she saw him, she flipped. The first time he saw her, he ran. That was the second grade, but not much has changed by the seventh. Juli says: "My Bryce. Still walking around with my first kiss." He says: "It's been six years of strategic avoidance and social discomfort." But in the eighth grade everything gets turned upside down: just as Bryce is thinking that there's maybe more to Juli than meets the eye, she's thinking that he's not quite all he seemed.
 
This is a classic romantic comedy of errors told in alternating chapters by two fresh, funny voices.
The updated anniversary edition contains 32 pages of extra backmatter:  essays from Wendelin Van Draanen on her sources of inspiration, on the making of the movie of Flipped, on why she'll never write a sequel, and a selection of the amazing fan mail she's received.
 
Awards and accolades for Flipped:
 
SLJ Top 100 Children's Novels of all time
IRA-CBC Children's Choice
IRA Teacher's Choice
Honor winner, Judy Lopez Memorial Award/WNBA
Winner of the California Young Reader Medal
 
"We flipped over this fantastic book, its gutsy girl Juli and its wise, wonderful ending." — The Chicago Tribune
 
"Van Draanen has another winner in this eighth-grade 'he-said, she-said' romance. A fast, funny, egg-cellent winner." — SLJ, Starred review
 
"With a charismatic leading lady kids will flip over, a compelling dynamic between the two narrators and a resonant ending, this novel is a great deal larger than the sum of its parts." —Publishers Weekly, Starred review